​Pilotage Service
The Trieste Gulf (Trieste & Monfalcone) Pilots provide pilotage service to all the foreign and Italian flag vessels under register (regulated vessels) entering or leaving Trieste and Monfalcone Ports as required by the govern law.
Pilotage is provided on a 24-hour basis, 365 days a year in all port circumstances.
Ordering a Pilot Pilot orders are normally placed by locally based ship agents/representatives Who are in touch with the Trieste Gulf Pilots.
Arriving vessels must book pilot service not less than 1 hour prior to arrival at pilot stations.
Booking can be placed by VHF 14 or telephoning our office 24 hours a day at 040-304-307 // 040-304-406 Ext. 1.
Orders cannot be accepted by email or other electronic means. Changes to arrival times must be noticed at least 20 mins before the scheduled arrival time.
Arrival & Pilot Embarkation at Trieste or Monfalcone Pilot Station
Vessels approaching either Trieste or Monfalcone Pilot Station from voyage should confirm their arrival at least with one hour advance notice.
Ship's details as length, draft and airdraft might be requested upon call. Vessels should make a second call to the pilot station when they are 1/2 hour from the sea buoy.
Pilot boarding side will be given at the time of the second call.
Pilot Ladder Requirements
Ladder rigging, pilot embarking and disembarking assistance, must be under the supervision of a licensed officer.
Ladder must be made in one whole length and not consist of two lengths shackled or lashed together, and should be equipped with spreaders every 3 metres.
Pilot boarding deck area must be well lighted, clean and clear from any obstructions to ensure the safe passage for the pilot.
Trailing lines or retrieving lines should not be connected to the lower ends of the ladder.
Ladders must be rigged well clear of water and discharge outlets and at a place near midship.
Vessels must comply with the new SOLAS Chapter V regulations (https://www.marine-pilots.com/articles/147387-impa-pilot-ladder-poster-suggestions-for-improvements ).
Rig the ladder 1.5 meters above the water. A heaving line must be available.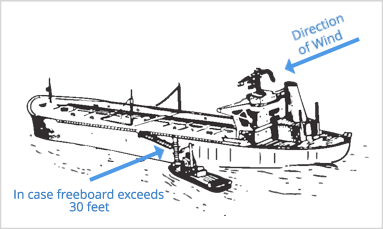 ​